Shopping Cart
Your Cart is Empty
There was an error with PayPal
Click here to try again
Thank you for your business!
You should be receiving an order confirmation from Paypal shortly.
Exit Shopping Cart
painting, writing, photography
| | |
| --- | --- |
| Posted on July 5, 2016 at 12:10 PM | |
desplazarse por español
1. On long bus journeys avoid sitting in a front seat where you have a full view of the driver. I sat in the front row three times and was horrified every time I saw the driver take his hands off the wheel to fiddle with a bottle of water or try and unwrap a sweet. Only once the bus's wheels hit the rumble strips on the motorway would the driver yank back control of the wheel. I was convinced our driver from Granada to Cartagena was drunk until I realized he was actually demonstrating consummate control of the vehicle. I just wish I hadn't repeatedly witnessed it. It's better to be at the back where you are oblivious to what's going on up top.
2. And speaking of buses, it's common in Spain for two buses heading for the same destination to leave the same bus station at the same time. It's your responsibility to make sure you're on the right one. It's usually not the one you think it is. It's the other one. The one that left a few seconds earlier. You then have to get off the 'wrong' bus, even though it has empty seats and you have a valid ticket for the journey, have your bag removed from the hold, go to the ticket office and buy another ticket for the next bus. Try harder to make sure you get on the right bus next time. Repeat cycle as many times as required.
3. Hotels or hostals which are located in the centre of busy tourist cities but which score an average mark of only 5.4 out of 10 for customer satisfaction on booking.com and have 'rooms available' at suspiciously cheap prices, are probably best avoided unless you want to spend the night in a tiny filthy death trap. Seems obvious now, that one.
4. For your next holiday decide where you want to go and simply look up pictures of it on the Internet instead. That way you can stay at home with all your creature comforts for two weeks and save a lot of money.
5. Many cities in Spain have corresponding place names in South America. Didn't you ever study history in school? If you are getting frustrated tramping around, let's say Cartagena, in the awful heat wondering why your hostal doesn't seem to exist it's worth checking that you didn't accidentally print off the google street map of, for example, Cartagena, Colombia. Unfortunately, though these places have the same names, the street configurations are different.
6. Don't go to Sevilla in July.
7. And probably don't go in August either.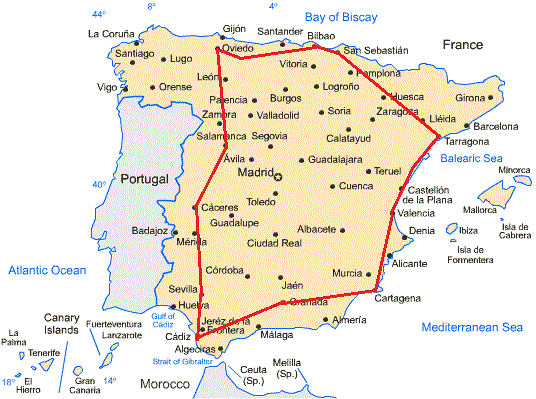 Notas para el viajero que discierne en España




 

1. En los viajes largos en autobús evitar sentarse en un asiento delantero donde se tiene una vista completa del conductor. Me senté en la primera fila tres veces y estaba horrorizado cada vez que veía al conductor a las manos del volante para jugar con una botella de agua o tratar de desenvolver un caramelo. Sólo una vez que las ruedas del autobús golpeó las bandas sonoras en la autopista sería el conductor tire de nuevo el control de la rueda. Yo estaba convencido de que nuestro conductor de Granada a Cartagena estaba borracho hasta que me di cuenta de que en realidad estaba demostrando el control del vehículo consumada. Sólo deseo que no había visto en repetidas ocasiones. Es mejor estar en la parte trasera donde se encuentre ajeno a lo que está pasando en la superior.




 

2. Y hablando de autobuses, que es común en España durante dos autobuses que se dirigen a un mismo destino que salen de la misma estación de autobuses al mismo tiempo. Es su responsabilidad de asegurarse de que está en el correcto autobus. Por lo general, no es el uno que usted piensa que es. Es el otro. El que dejó unos segundos antes. A continuación, tiene que bajar del autobús "equivocado", a pesar de que tiene asientos vacíos y usted tiene un billete válido para el viaje, haga que su bolsa de quita de la bodega, ir a la taquilla y comprar otro billete para el siguiente autobús. Intentar más para asegurarse de obtener en el bus bien la próxima vez. Ciclo de repetición tantas veces como sea necesario.




 

3. Hoteles o hostales que están situados en el centro de las ciudades turísticas ocupadas, pero que anotar una nota media de sólo un 5,4 sobre 10 en la satisfacción del cliente en booking.com y tener 'habitaciones disponibles' a precios sospechosamente bajos, son probablemente mejor evitar a menos quiere pasar la noche en una pequenita, sucia, trampa de muerte. Parece obvio ahora, que uno.




 

4. Para sus próximas vacaciones decidir dónde quiere ir y simplemente mirar hacia arriba fotos del mismo en Internet en su lugar. De esa manera usted puede quedarse en casa con todas las comodidades para dos semanas y ahorrar mucho dinero.




 

 

5. Muchas ciudades en España tienen correspondientes nombres de lugares en América del Sur. ¿Nunca estudia la historia en la escuela? Si usted sienten frustrados caminar alrededor, digamos Cartagena, en el terrible calor y usted preguntándose por qué su hostal no existe, debe comprobar que no ha impreso accidentalmente del plano de la ciudad google de, por ejemplo, Cartagena, Colombia. Por desgracia, aunque estos lugares tienen los mismos nombres, las configuraciones de las calles urbanas son diferentes.




 

6. No vaya a Sevilla en julio.




 

7. Y probablemente no vaya en agosto tambíen.

 

 




 




Categories: Summer 2016

0

/